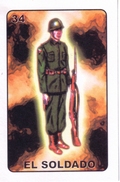 Loteria is a traditional Mexican game similar to bingo, played with a tarot-like deck of picture cards. In card number 34, El Soldado, I see M., my "ex‑husband" of eight years and still one of my very closest friends. Long before I knew him, M. was one of the thousands of Mexican-American soldiers from Corpus Christi, a native of the area where his family has probably lived since it was still part of Mexico.
The brown and smoky tones of the card remind me of a photo of M. from his service during the first Gulf War. He served as a specialist in the U.S. Army stationed in Saudi Arabia and worked with communications equipment during the liberation of Kuwait and the advance into Iraq. He's told me stories of his service in that war—of the Russian tanks used by the Iraqi Army, which became useless piles of molten plastic and metal under American artillery fire. He talks infrequently about one of the few times that he himself was under fire, laughing off the experience.

"We just ran away!" he jokes. I have to imagine the details he leaves out—the noise, the smoke, the omnipresent dust, the thunder of air cover as our Air Force drove back the Iraqi assault with a disproportionate counter-attack. I admire the casual shape his courage takes. I cannot imagine being fired upon. I was never tempted to sign up for military service.
El Soldado's murky background makes me think of the oil wells that the Iraqi dictator, Saddam Hussein, ordered set on fire. Some burned for many months before well-fire experts could put out all the fires and get the Kuwaiti wells back into production. M. has experienced some health issues—worrisome, but so far, not serious—that I'm inclined to blame on smoke from the well fires, or toxic ordnance, or maybe on the experimental vaccines that were tested on Gulf War soldiers. He dismisses my suspicions, preferring to blame his quirky liver on his intemperate youth.
In the photo, M. sits in the back seat of a jeep. He's wearing desert camouflage, with a floppy camo hat of the style I usually associate with fishermen. His eyes, heavy-lidded and -lashed, always have a sleepy look, but in the photo, they're squinted even more tightly against the desert sun, which washes all colors in the photo to dull browns, olives, tans, and beiges. His skinny frame accentuates his aquiline nose. His skin is walnut-brown from weeks or months of exposure to relentless Saudi Arabian sunshine. A thin adolescent mustache and the way his uniform hangs off him remind me that he had barely outgrown boyhood when he volunteered for service, received basic and specialist training, and was shipped around the world to fight for our Kuwaiti allies' freedom—and oil.
Who is El Soldado? What acts of heroism does he shyly dismiss as duty, as cowardice? What horrors of war are preserved behind his stoic expression?
---
Author's note: The assignment was to choose a playing card or tarot card and to write a description of the person of whom it reminds you. I like to be different, so I went looking for images of the standard Loteria deck instead. As soon as I saw
El Soldado
, the choice was obvious.
Even though many of my readers know M.'s identity, I've decided to conceal it here to protect his privacy (at least a little) from the general public.